Peterbilt Motors Company unveiled today the all-new medium duty Model 535 and Model 536, designed for the Class 5/6 non-CDL lease and rental markets.
Working from a clean sheet of paper, Peterbilt designers and engineers have developed a high quality truck designed for maximum efficiency and versatility. The five-year project involved talking directly to customers to fully understand their needs. The all-new Model 535 and Model 536 deliver the highest level of quality customers have come to expect from Peterbilt.
The trucks feature a robotically-assembled aluminum cab with a width of 2.1m, a floor height of 40.5" and a roof height of 74". The cab is 8 inches wider than the previous generation cab and has room for three adults to seat comfortably. Ingress and egress is improved with a 3" lower cab height, stair-style steps and knurled grab handles. The all-new, self-closing doors feature larger windows for increased driver visibility, three opening positions and a new triple seal for enhanced NVH. The Bumper to Back of Cab (BBC) measurement can be either 107" or 109" and the trucks offer excellent maneuverability with a turning radius of 51ft.
Options available on the Model 535 and Model 536 include two hood lengths, two roof heights, composite and steel bumpers, as well as multiple options of fuel and DEF tanks.
The cab interior has best-in-class fit and finish with high or low-back seats in cloth or vinyl. Storage space is also best in class with three cup holders and 4.6 cu ft of overhead and door storage space. The dash layout of the Model 535 and Model 536 is fully customizable for any application with available space for optional gauges, switches and ram mounts.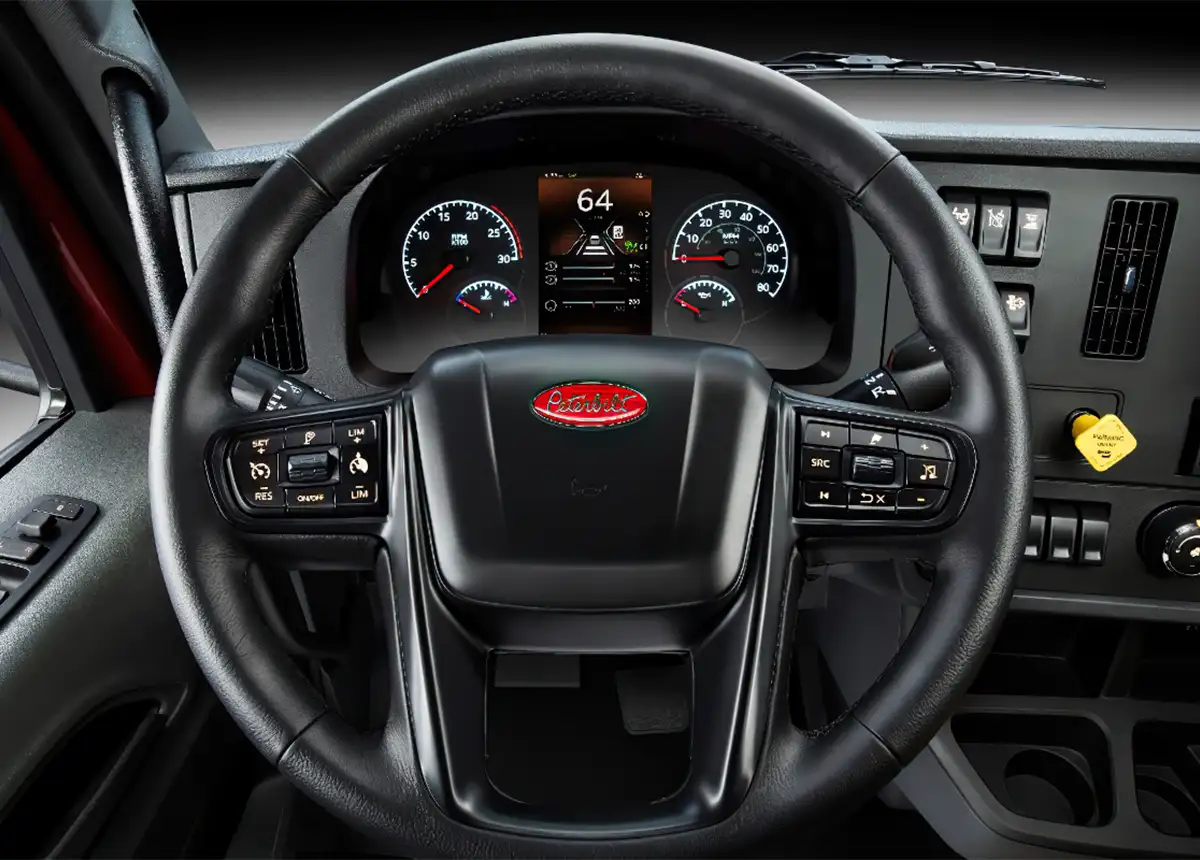 Driver information is delivered through a new instrument cluster, featuring an analog speedo and tachometer and a high-resolution 7-inch digital display, the largest in the industry for this segment. The 7-inch display relays key information at a glance thanks to a unique menu card layout. Drivers are able to toggle through pre-loaded menu cards and customize their preferences utilizing the new multi-function steering wheel and the display navigation knob. The digital display is fully integrated with the ADAS system on the truck (collision mitigation, lane departure warning) as well as the TPMS system. Other functions include a system check and trip summary.
"This year has proved to be a very big year for Peterbilt, first with the launch of the New Model 579 and now with launch of the new Model 535 and Model 536. The medium duty segment is integral to Peterbilt's business and we have seen great gains in market share since the launch of our first medium duty truck back in 1995," said Jason Skoog, Peterbilt general manager and PACCAR vice president. "These trucks are a perfect fit for the growing lightweight lease, rental and pick-up and delivery markets with their versatility, excellent efficiency and uptime."
The new Model 535 and Model 536 are available for order starting today with deliveries starting in July.