Peterbilt Motors Company unveiled today the all-new medium duty Model 537 and Model 548, designed for the Class 7/8 segment.
Peterbilt spent considerable time working with customers to define the key attributes necessary to ensure the new Model 537 and Model 548 provide maximum versatility and rugged performance.
The versatility of the new Model 537 and Model 548 is built upon a brand-new customizable chassis and robust multiplex electrical architecture. The trucks deliver seamless body builder integration allowing customers complete customization to spec their truck to fit their needs.
The versatility continues with two hood options, a vocational 3-piece Metton® hood featuring a stationary grille with full through rail, and a three-piece SMC aero hood for maximum visibility. Both hood options can use a variety of vocational and FEPTO bumpers to fit different applications. The bumper is front mounted to the chassis with a drop-and-go feature for self-locating. Bumper options include two finishes (chrome or painted), three bumper light mounted options (headlight, daytime running lights or fog), two radar options, two tow options (two tow loops or center tow), and two license plate mounting locations (center or offset).
Rugged performance starts with the suspension on the new Model 537 and Model 548, with wide or standard track axles featuring superior wheel cut angles for a shorter turning radius and mono-leaf or taper-leaf front springs rated from 8,000 up to 20,000 lb. The rear suspension is available with a taper-leaf or air leaf suspension rated from 12,500 to 40,000 lb. depending on a single or tandem drive configuration. The AWD option features a new offset bowl design to offer the lowest possible cab height.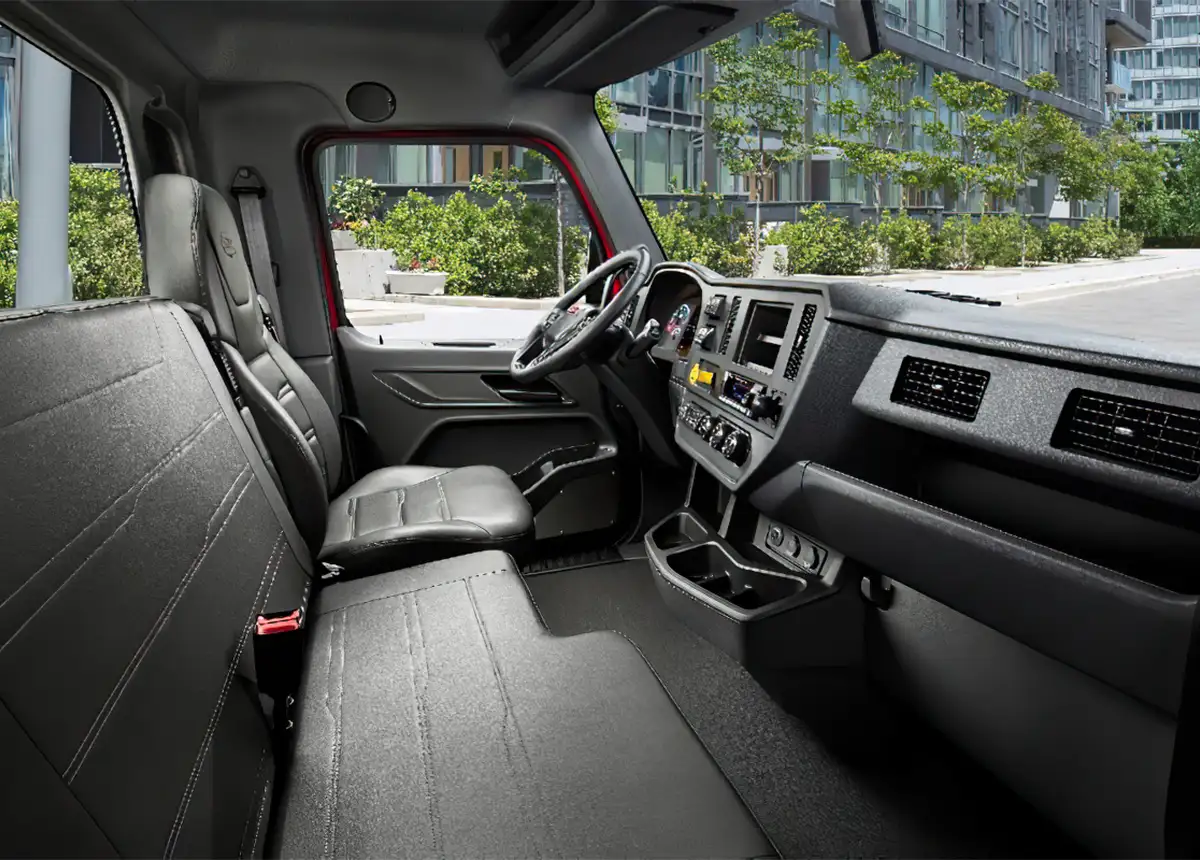 The new 2.1m cab is 8 inches wider inside than the previous generation cab and has room for 3 adults to seat comfortably. Stair-style steps and knurled grab handles make getting into the trucks easy. The best-in-class interior features 4.6 cu ft of storage space, 3 cup holders and a dash layout with available space for optional gauges, switches and ram mounts.
An all-new instrument cluster, featuring an analog speedo and tachometer with a segment-leading, high-resolution, 7-inch digital display relays key information at a glance. Drivers are able to toggle through menu cards on the digital display utilizing the new multi-function steering wheel and the display navigation knob. The digital display is deeply integrated into the electronics of the truck with key information like system check, trip summary, PTO functions, ADAS and TPMS all clearly displayed through the menu cards.
"Peterbilt will always go above and beyond to deliver trucks that are fine tuned for their specific application, not to mention have the durability and toughness to be around for a long time. The new Model 537 and Model 548 are further proof that we listen to our customers and deliver on their needs," said Jason Skoog, Peterbilt general manager and PACCAR vice president.
The new Model 537 and Model 548 are available for order starting today with deliveries starting in July.