Peterbilt Motors Company announced a New Era of Class with the unveiling of the new Model 579. Engineers and designers pushed the limits of how bold and elegant a truck can look, inside and out.
Developed over a five-year span, Peterbilt set out to perfect the look and aerodynamic shape of the new 579. Over 1,000 hours of computational fluid dynamics (CFD) analysis and over 7.8 million CPU processing hours were spent evaluating the exterior design of the new 579. This research resulted in an enhanced aerodynamic profile and a 7% improvement in fuel economy. Achieving this feat meant no stone was left unturned.
Key exterior features to the new 579 include a redesigned stronger Metton® hood that is narrower and more resistant to damage. This is topped off with Peterbilt's iconic aerodynamic "bird" ornament, a bright stainless steel grille and improved Halogen or optional LED headlights. A new 3-piece bumper integrates the forward radar cover for collision mitigation, with a larger aerodynamic air dam, and provides both protection against damage and lower replacement costs. Improvements to the aero mirrors, fairings, side skirts and closeouts help improve the overall aerodynamic shape with the revised A-pillar vane redirecting airflow around the windshield reducing friction and helping deliver a 10% noise reduction in the cabin. Peterbilt designers infused the new 579 with a look that is both bold and elegant.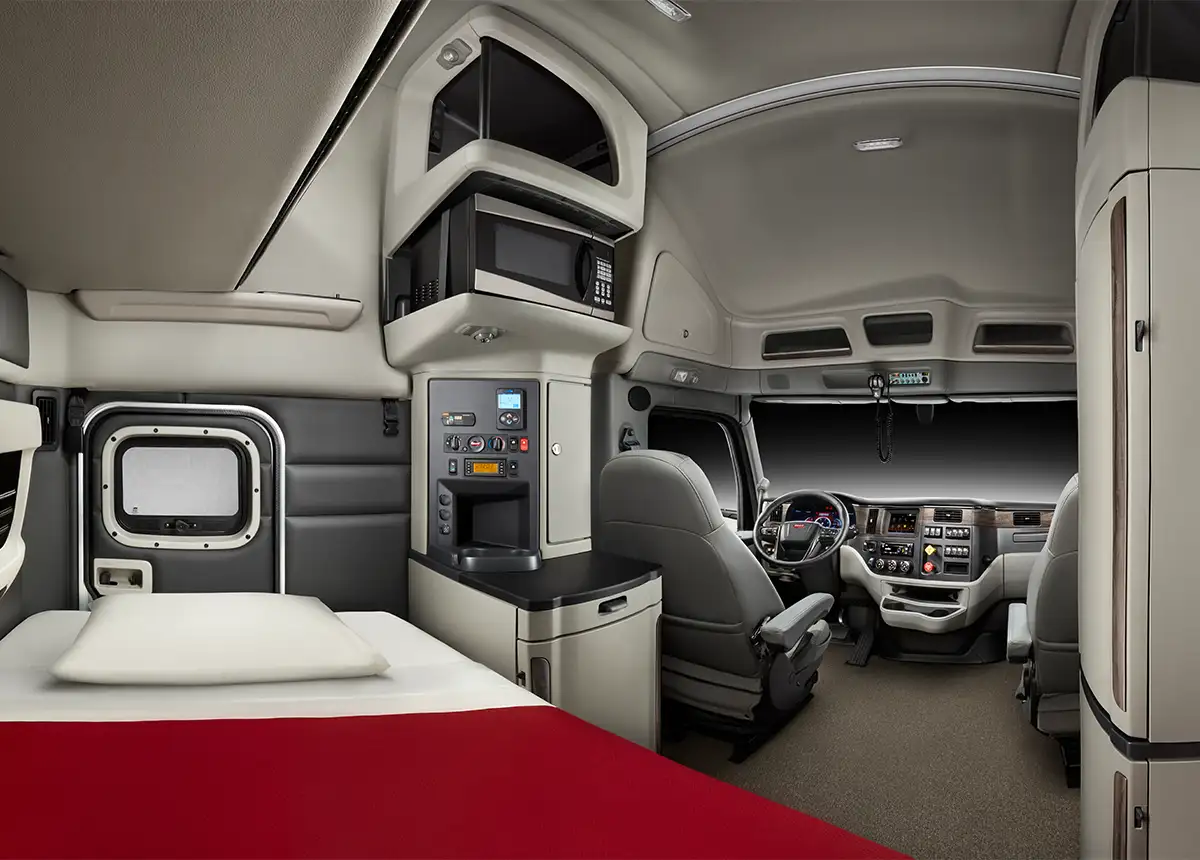 Already the best in the industry, the interior of the new 579 features soft-touch materials with a fit and finish that delivers an outstanding driver experience. The 579 UltraLoft with an integral sleeper provides 70 cubic feet of space, offering more storage than any comparable integral sleeper. Drivers will feel right at home with plenty of headroom from the eight-foot high ceiling. The cabin has room for small appliances, including a 1.1 cu ft microwave, a 32" TV, a tall wardrobe closet, multiple power outlets and optional bunkbeds with a clever fold-away ladder. Multiple windows provide plenty of natural light and additional ventilation. At night, interior lighting from dome LED lights and three directional spot/reading lights provide added convenience and safety. New sound abatement technology helps minimize outside noise creating a quieter cabin, both on and off the road. Small additions like a fixed cup holder and the option for multiple USB charging ports in the center console make life on the road more comfortable.
"Beautiful on and off the road, the new Model 579 raises the bar to a whole new level of aerodynamic performance and driver comfort. The boldness of the exterior design combined with the elegance of the interior space set the new 579 apart from the competition," said Jason Skoog, Peterbilt general manager and PACCAR vice president.